Safely Dispose & Recycle Your Old Alarms
Smoke and Carbon Monoxide alarms save lives—but they don't last forever. Generally, alarms should be replaced before 10 years from the date of activation. There are simple steps you can take when it is time to replace your Universal Security Instruments and USI Electric alarms.
In general, there are three types of smoke alarms:
Photoelectric alarms are generally more effective detecting slow smoldering fires.
Ionization alarms are generally more effective detecting fast flaming fires.
IoPhic® Universal Smoke Sensing Technology® combines the benefits of both photoelectric and ionization detection with one sensor—which is an ionization sensor.
Federal regulations do not address the disposal of smoke alarms, carbon monoxide alarms or other types of fire detection systems or components. However, there may be state or local requirements applicable to the disposal of alarms, specifically ionization alarms, so be sure to check with your local fire department for further clarification. In the absence of state or local regulations, old alarms may be disposed of in the normal municipal waste stream in the USA. Instructions are different for Canada residents.
Be sure to remove the replaceable battery from the alarm, and then dispose the battery in accordance with your local or state requirements. If you have an alarm with a non-removable sealed battery or batteries, treat the alarm as you would the battery, and dispose of it properly at a hazardous waste facility in accordance with the legislation covering your municipality.
If there is not a local recycling center or landfill available in your area to accept your Universal or USI alarms, they may be returned to our address as follows:
UNIVERSAL SECURITY INSTRUMENTS, INC.
Attn: Disposal Department
11407A Cronhill Drive
Owings Mills, MD 21117-6218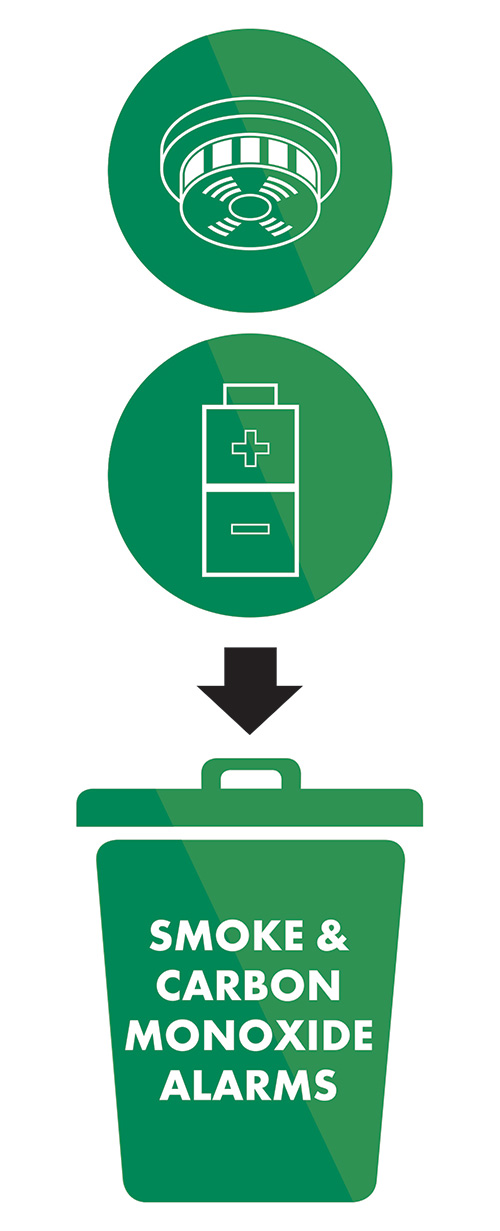 Never Replace Batteries Again!
10 Year Permanent Power - Safer Than Lithium Batteries.
10 year permanent power means the end of annoying low battery chirps - the key reason people inttetionally disable or dispose of their alarms.
No batteries to change for the life of the alarm - that's 87,600 hours of continuous power!
Lithium-free alkaline batteries reduces environmental waste and eliminates disposal of up to twenty 9-volt batteries.